Diese Veranstaltung hat bereits stattgefunden.
Learnspace: 3D Druck & Lasercutting
16. Dezember 2017 @ 10:00

-

17. Dezember 2017 @ 18:00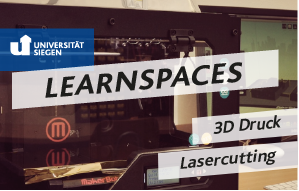 Im Fablab der Uni Siegen lernen wir, wie 3D-Druck funktioniert, erstellen eigene 3D-Modelle und drucken sie aus – zum mit nach Hause nehmen! Außerdem lernen wir alles über Laser und machen eigene Produkte aus Holz.
في فابلاب (Fablab) جامعه زيجين نتعلم كيفيه عمل الطباعه ثلاثيه الابعاد؛ و نقوم بتصميم و طباعه تصميمنا لنأخذها معنا للبيت.و سوف نتعلم عن القص بالليزر و عمل مجسمات من الخشب بإستخدامه.
در فبلب دانشگاه زیگن، ما شیوه چاپ با دستگاه سه بعدی را یاد میگیریم، ما مدل های سه بعدی خودمان را طراحی کرده و آنها را چاپ می کنیم.- برای بردن به خانههمچنین ما همه چیزرا در مورد دستگاه برش لیزر برای تولیدات خودمان با چوب را یاد میگیریم
In the Fablab at Uni Siegen, we learn how 3D Printing works, we design our own 3D models and print them out – to take home!
We also learn all about Lasers and make our own products from wood.